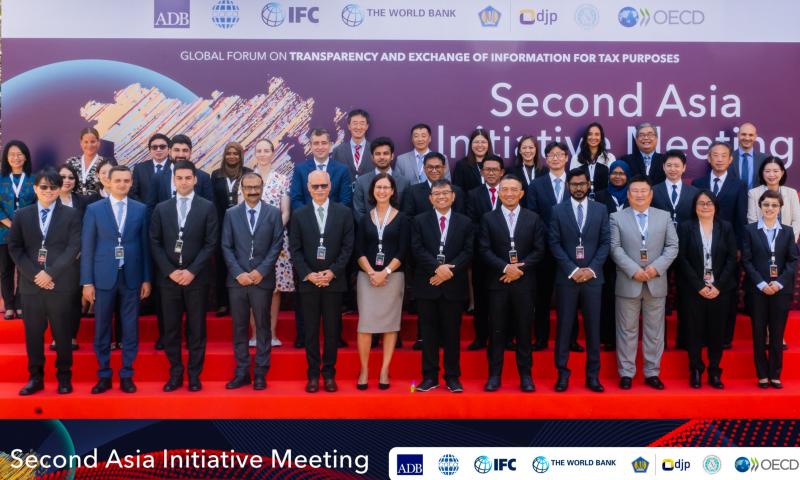 Deputy Minister of Finance participated in the second high-level meeting of "Asia Initiative"
Deputy Minister of Finance Arman Poghosyan participated in the second high-level meeting of the "Asia Initiative" of the Organization for Economic Co-operation and Development (OECD) in Indonesia. The Chairman of the State Revenue Committee Rustam Badasyan was also part of the Armenian delegation.
The second high-level meeting of the "Asia Initiative" was titled "Supporting recovery by increasing tax transparency". The meeting was focused on the issues of international cooperation between tax authorities in the Asian region, ensuring access to financial information for taxation purposes, combating tax evasion and illegal financial flows.
Arman Poghosyan forwarded to the Secretariat of the "Asia Initiative" the letter-agreement of the Minister of Finance Tigran Khachatryan on the Republic of Armenia's joining the initiative.
The Asia Initiative was launched last year with the aim of supporting global efforts to introduce information exchange standards elaborated by the OECD Global Forum on Transparency and Exchange of Information for Tax purposes and to develop solutions tailored to the Asian region to introduce OECD standards.
The meeting was attended by high-ranking representatives of the 15 states that signed the "Asia Initiative", from Armenia, China, Japan, India, Indonesia, South Korea, Malaysia, Mongolia, Maldives, Thailand, Singapore, Hong Kong (China), Macao (China), Pakistan and Brunei.
The participants of the meeting discussed the areas of activity of the "Asia Initiative", the effectiveness of the automatic exchange of information on financial accounts and a number of other issues. There was an exchange of experience on forming an effective system in terms of voluntary disclosure schemes and real beneficiaries. As a result of the meeting, the high-level work plan of the upcoming activities within the "Asia Initiative" was approved.
Armenia joined the Asia Initiative in August 2022. It is expected that Armenia's participation in the initiative will provide an opportunity to develop international cooperation in the field of tax administration with partners in the Asian region, to ensure access to tax information from those countries for the Armenian tax authority, to activate the effective exchange of tax information with countries in the Asian region, as well as to implement exchange of best practice in the fight against tax evasion, contributing to increasing the efficiency of RA tax administration.